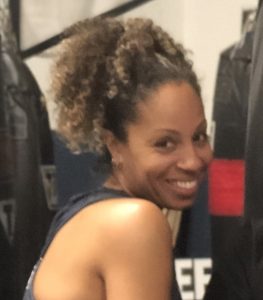 Makeda Richardson was introduced to the wonderful world of boxing fitness in 2011 by trainer, coach, friend and business partner, Angel McNamara. Since that time, Makeda has been training and often teaching boxing classes alongside Angel, while gaining a new appreciation and passion for the "sweet science of boxing."
Makeda holds a Masters of Business Administration from the University of Maryland, an Executive Certificate in Non-Profit Management from Georgetown University, and is a Program Officer for a Maryland-based science philanthropy organization. It is here that she served a two-year appointment as their Community Partnership Co-Chair and continues to be an active mentor of their community outreach team. When she is "Out of Office," Makeda can be found teaching POUND® and following her passion as a USA Boxing Coach and Rock Steady Boxing Coach that strives to bring fun, fitness and determination to each fighter going toe-to-toe with Parkinson's disease.
By love and unrelenting joy, Makeda is the proud mother of three beautiful children and grandmother of three. In her spare time, she enjoys vacations to the beach, amusement parks, dancing and spontaneous outings full of friends, fun and fierceness.
View all trainers