67-Year-Old Heidi Markovitz of Washington, DC to Compete in Las Vegas Masters Boxing Tournament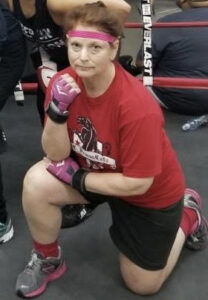 Rockville, MD – Heidi Markovitz, a 67-year-old amateur boxer from Washington, DC will compete in the 3rd Annual Las Vegas Masters Invitational, sponsored by Title Boxing, a two-day boxing tournament being held on February 26-27. The Las Vegas Invitational is a Masters amateur division for boxers ages 35 and older, sanctioned by USA Boxing. Master boxers will compete in 3-round bouts lasting 1-2 minutes.
Markovitz was introduced to boxing nearly 10 years ago through a boxing fitness class at her office gym. The idea of boxing was unfamiliar to her, but the reality of punching things proved very alluring to the then 57-year old. The class was run by Angel McNamara of Fight Into Fitness Boxing Gym in Rockville, MD. McNamara's class format encouraged camaraderie among the students – in workplace jargon, that's team building.
After attending several classes, Markovitz began personal training and sparring with McNamara as a way to focus her increasing strength and stamina and to grow it further. Last year, after retiring from 45 years in computer programming, Markovitz felt it was time to push herself in a new way. The obvious choice was to go competitive with her hobby and sign up for an actual fight as a Master boxer. "I enjoy the sport of boxing to the point that I want to see if I can be competitive. I enjoy challenging myself and I refuse to let age hold me back," said Markovitz. She's excited about the thrill of competing in a competition with people like her who have fallen in love with the sweet science of boxing.
The Las Vegas Masters Invitational will be held on February 26-27, 2022 at noon PST at the International Sports Center, located at 7770 Dean Martin Drive, Unit 304 in Las Vegas, NV. There will be 200 Masters present for two days of nonstop boxing action. Visit www.lasvegasmastersinvitational.com for additional details.
About Fight Into Fitness
Located in Rockville, MD, Fight Into Fitness boxing and fitness gym offers group boxing fitness classes, boxing circuit training, personal training, and coaching. Whether you are a novice, fitness enthusiast, or professional, you can benefit! Learn more at www.fightintofitness.com.
# # #