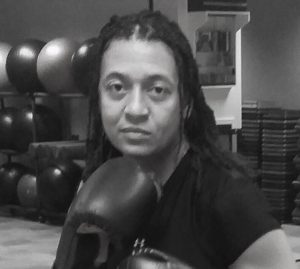 Angel McNamara is the Founder, CEO and Boxing Fitness Consultant of Fight Into Fitness, LLC, a Level One USA Boxing Coach, and a Certified Coach of the "Rock Steady Method" through Rock Steady Boxing, an organization dedicated to the fight against Parkinson's through non-contact, boxing inspired fitness training.
Angel began Fight Into Fitness in 2008 to share the "sweet science" of boxing with the wonderful world of fitness through building physical strength, stamina, boosting confidence, and gaining mental focus.
In 1999, out of curiosity, I walked into The Baltimore Boxing Club where I met and trained with Jake "The Snake" Smith, Jim Sauffley, and Nick from Thailand. After three months of a rigorous every-day-training regimen with them, I was offered the opportunity to fight as an amateur. Throughout my career, I had the pleasure of training with some of the best boxing and Mixed Martial Arts coaches in the industry, such as Barry Hunter, Robert Crawford, Boyer Chew, and Na'eem. In 2009, I retired with a 17-5 amateur record and a 6-5-1 professional career record.
I was born and raised on the Eastern Shore in Cambridge, MD, where I spent most of my life in athletic competitions: basketball, softball, field hockey, soccer, and football. Aside from my passion for boxing and fitness training, I enjoy traveling, walking my dog, softball, kickball, skating, watching movies and admiring the many wonders of the great outdoors.
View all trainers